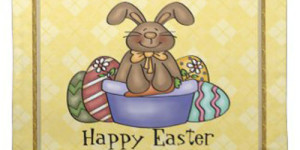 A charming Easter table that works great when kids are involved is easy to do. Just choose from these cute placemats all designed for Easter. The whole family can enjoy a delightful table setting and you can enjoy fun holiday decorations in your kitchen.
Cute Bunny Placemats for Easter
Bunny rabbits are such a wonderful symbol for Easter fun. These are just a few of the charming designs that kids will love. In fact, this adult loves them, too, so they will work great for the whole family.
Personalize Placemats for the Whole Family
One of the things that I enjoy is setting a table so that each of the family members has their own personalized placemat. Luckily, it's very easy to do with these designs. Choose the one you want to add a name to, click on the "customize it" button at the bottom of the image. Then choose to add text. You can easily change the font, the text color, the placement, even swivel the name around. Which means you can line it up on the side of placemat, in the center, over, above or under the picture. Just about anything you can think of to create your own personalized placemat. At no additional cost either. Now how great is that?
Designing Your Easter Table
Every year, my Easter dinner includes placemats for each of the grandchildren, along with ones of each of the adults. My placemats aren't matching. That eclectric look is something that I like, but you can easily pick matching or coordinating placemats for your table. Then choose coordinating napkins. Personally, I like to have solid colored napkins to create a more simple effect on my eclectic designed table. But, each of the placemat designs featured here comes with a set of matching cloth napkins.
Create a charming centerpiece with simple things like colored eggs, spring flowers and pastel colored ribbons all set around a plush bunny toy. Or try spilling Easter eggs and flowers out of a small basket.
Cute placemats, napkins and a simple centerpiece will all come together to make your Easter table perfect for the whole family, including the kids. Find more Easter Placemats at Zazzle.com.
Originally posted 2013-11-20 15:28:06.
---