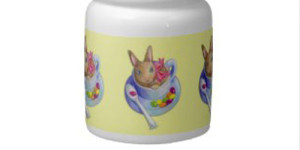 A big part of the fun of Easter is all the candy. Therefore, we all needs Easter candy jars. Think of the jelly beans, the chocolate eggs, even the marshmallow peeps of every baby animal variety. What better place to keep all of this yummy candy than in a jar designed just for the holiday.
Bunny Easter Candy Jars
The Easter Bunny is such a great family holiday tradition in our house. All the kids know that he hides the decorated eggs and brings every one of us lots of candy. So an Easter candy jar with the Easter bunny decorating it is ideal. Any one of these Easter candy jars would make a great addition to your home decor as well. Holiday time or otherwise.
Baskets and Eggs Easter Candy Jars
More Easter fun comes in the way of baskets filled with candy and topped with that traditional chocolate bunny. Then all the found decorated eggs get added. The basket is overflowing. Enticing with bright colors and delicious goodies. What child of any age can resist? Well, certainly not this child of advancing age!