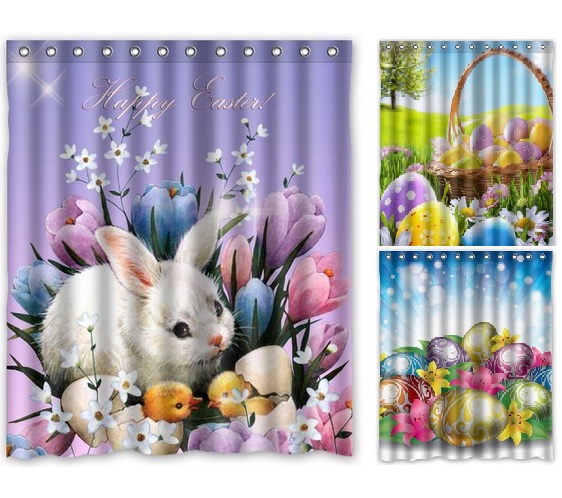 Decorating for any holiday is fun, but decorating with bunnies for Easter is purely delightful. It is fast and easy to add holiday decor in each bathroom by simply hanging an Easter shower curtain. It only takes a few minutes to swap out shower curtains, yet they make such a huge difference in your bathroom decor.
Either of these pretty shower curtains would be a lovely addition for your seasonal home decor. They are bound to cheer everyone in the family and even your guest when they simply need to use your restroom. I've actually had friends stop by my home just to see the children's bathrooms when they are decorated for the holidays. We all have a bit of a child still in us, and these gorgeous images appeal to everyone's inner child. Be careful kids, you may find Mom and Dad using your bunny rabbit decorated bathroom.
The patterns on each of these shower curtains are quite large and would be quite prominent in any bathroom. The only problem, you might prefer to stay of the outside of the tub just so you can enjoy the view.
Bunny Rabbit Easter Shower Curtain
Bunny rabbits are cute any time of the year, so if you don't removed the Easter shower curtain immediately after Easter, it wouldn't be the end of the world. Actually, this has such pretty spring colors with spring flowers that I would put it up in late February or early March just so I could enjoy it for several months. This Easter shower curtain is 100% polyester and is machine washable.
Best Home Fashion Happy Easter New Style Custom Shower Curtains
60″ x 72″Check Price
&
Easter Eggs Shower Curtain
Everyone loves an Easter egg hunt! However, you really don't have to hunt for these gorgeous eggs. Of course, they will make you wish you had 3 tubs in your home. It is nearly impossible to choose a favorite.
Unique Custom Happy Easter Eggs Design Waterproof fabric Polyester Shower Curtain 60″ x 72″Check Price Custom Shower Curtains
Waterproof Polyester Fabric
66″ x 72″Check Price Standard-Store Custom Fashionable Design Waterproof Fabric Polyester Shower Curtain 60″ x 72″Check Price
&
Alternate Uses for Shower Curtains
Ambesonne House Decor Collection, Rabbit Portrait Made of Digital Geometrical Dots Points in Vintage Color Bunny Face Life , Polyester Fabric Bathroom Shower Curtain Set with Hooks, Light BrownCheck Price
Not everyone actually uses a shower curtain for their bathtub shower. Many homes have glass doors to their showers which means you may not be able to actually use a show curtain for it's intended purpose. But, you may still love the images and wish to decorate with them elsewhere.
You could easily hang a shower curtain from a standard rod and use them as a backdrop for an Easter party. They would certainly make a beautiful area for photos.
Another way you could use a shower curtain for decor would be to hang it from a tension rod in a doorway or in the door opening of a closet. That way you have the lovely decorative curtain to enjoy in any room.
This bunny would certainly be pretty year round!
Decorative Shower Curtains for Easter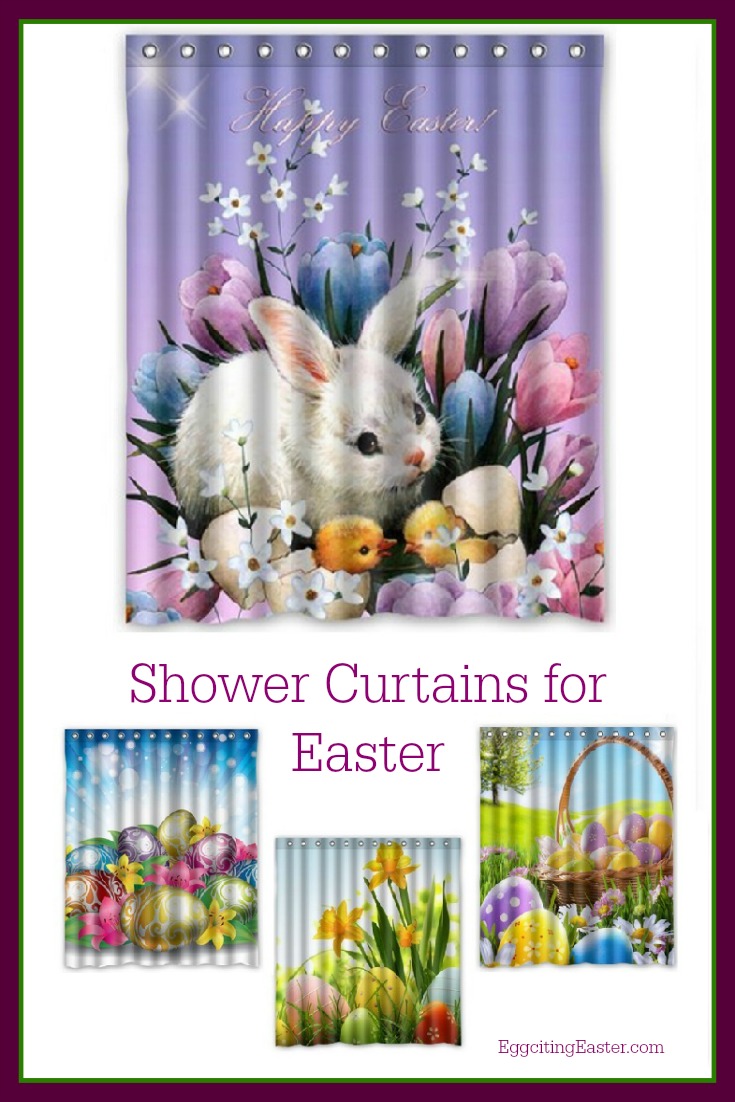 Originally posted 2016-10-21 22:44:57.
---