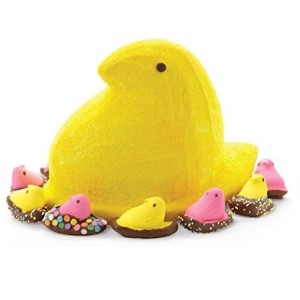 Easter cake pans make creating a beautiful cake for Easter easy! There are several different styles of cake pans for Easter available. You decide if you want a bunny rabbit, an Easter egg, a chick, or a religious themed cake pan like the lamb or the cross. Either of these cakes would be fabulous!
I personal enjoy making a specialty cake for each holiday. Baking a cake in the shaped cake pan allows us to make really pretty cakes with very little effort. You simply bake, frost and add a little detail to the cake with icing tubes if your so desire.
I tend to use a lot of coconut on Easter cakes. Both the bunny rabbit cake and the lamb cakes look more realistic with the "fur" created with coconut.
I include both the flat sheet cake style and the 3-D upright cake pans. If you are purchasing a 3-D cake pan, be sure to read the tips for using a 3-D cake mold below.
Fun Easter Cakes
Bunny Cake Pans
Wilton Step-by-Step Bunny PanCheck Price
The bunnies are so much fun to make and to serve to your guests. Children absolutely love the bunny cakes.
In the past, I made bunny rabbit cakes with 2 round cakes. I would use one for the face and cut the ears and a bow tie out of the second round cake. That was not hard, but it is actually easier to create a pretty bunny cake with the shaped bunny cake pan. No cutting required. I especially like the fact that now my bunny ears are the same size! I admit, it was a little challenging to get those ears cut from the round cake exactly the same size.
There are a couple of bunny cake pans available. You choose which one you prefer and have fun baking. You might even want to let the children help you decorate your Easter bunny cake. They would have a lot of fun adding the whiskers and eyes. That is such a great way to include kids and they love being able to say they helped decorate the cake.
I have used the silicone cake pans. I didn't think I would like them originally. Perhaps, I just don't like change, but I have actually found the silicone cake pans very easy to use, especially when turning a cake out of the pan.
If you opt for the 3-D cakes, be sure to see all of my notes below for using a 3-D cake mold.
Nordic Ware Easter Bunny 3-D Cake MoldCheck Price Easter Egg Bunny Silicone Cake Molds,BlueCheck Price
Peep Chick Cake Pan
Chicks are another animal that we associate with the Easter holiday. They are symbolic of new life and make the perfect spring and Easter cake.
This particular cake pan is designed to look like the classic marshmallow Peeps. The fabulous 3-D design cake pan bakes the cake to set in am upright position, instead of being like a flat sheet cake. This would not only be a great Easter cake, but it would be a marvelous centerpiece for your table. The photo below shows the large baked chick cake surrounded by the original small Peeps marshmallow chicks.
A really cute idea!
Wilton Industries 2105-2365 3D Peeps Cake Pan, MulticolorCheck Price
Be sure to follow the instructions included with this cake pan. It does require more cake batter than a box cake mix provides. You may also want to have some Sanding Sugar
on hand to use to make the big Peep chick sparkle. I recommend purchasing the sanding sugar in the same color as your icing.
Be sure to check out my additional tips at the bottom of this article for using a 3-D cake mold. There are a couple of tricks that will help if you know about them in advance.
Lamb Cake Pan
The lamb is another symbol of new birth, new life, that we often use during the Easter festivities. The little lamb cakes are simply precious!
Again, you have the option of a 3-D standing cake or a flat sheet cake style.
I know I said this in the introduction, but I think it bears repeating. I use coconut on the lambs cake to give it the "furry" effect. It is also very easy to apply on top of frosting and gently press it in to hold it in place. Since the lambs cake is usually white, there is no need to do anything extra to the coconut either.
If you choose the 3-D cake mold, please be sure to see the tips for making a 3-D cake at the very bottom of this article.
Wilton Standup Lamb PanCheck Price Wilton Gentle Lamb Cake Pan (2105-2515, 1990) ~ Full-Size ~ RetiredCheck Price
Decorating and Finishing an Easter Cake
Use pieces of candy for the simple finishing touches like eyes or whiskers.
If you are not comfortable with the cake decorating bags and decorator tips, I can recommend the Icing tubes and gel tubes for a very basic design method and to add a bit of color to the basic cake. They come in premixed colors and are pretty easy to use. Simply clip the tip of the tube and start decorating your cake. They are also easy plastic tips available for the colored icing tubes. They are fast, easy and a great way to get used to working with cake decorating tips.
Wilton Master Set of all 11 Ready-To-Use Icing Tube Colors (4.25 oz.Tubes)Check Price Wilton Icing Tip SetCheck Price
Religious Easter Cakes
Cross Cake Pan
For many, the cross is going to be the most appropriate and significant choice for an Easter cake pan. I love the design and image below. That look in the photo will not be easy to achieve with icing if you are a novice or occasional cake decorator. However, I do have a few tips for decorating a similar cross cake.
To make your own fondant flowers and borders, see my instructions and tips below.
Wilton Cake Pan: Cross (502-2502, 1972)Check Price
For the flowers on this cake, I recommend purchasing pre-made icing roses
that are already shaped and ready to use. You can use a Color Mist Spray
to color the roses if you wish. Color Mist is specifically made for food and this type of application.
Alternately, you could create you roses with a rose mold and fondant. Flowers are really easy to make with fondant and silicone molds. They simply take a little more time and a few additional products.
The border could also be made with fondant and a mold if you are not comfortable using cake decorator tips.
Making Fondant & Gum Paste Cake Decoration – Flowers & Borders
Large Rose Mold by Karen DaviesCheck Price
Don't be afraid of fondant and gum paste for decorations or trim work on a cake. Use you favorite flavored cake icing to make a delicious tasting cake and decorate the cake with flowers, trim and decorations made with a combination of fondant and gum paste. I have done this often simply because I don't really like the taste of fondant or the texture when eating cake, but I love the appearance of fondant created cake decorations and trims.
For the Cross Cake flowers, I can recommend the Karen Davies fondant rose mold and fondant trim molds, but all of the silicone molds work the same way. The Karen Davies brand of mold is the mold I prefer simply because they have fabulous detailing, but all of the silicone molds are quite easy to use if you follow a few simple tip.
Tips for Making Fondant Cake Decorations and Trim Pieces
Use a 50/50 combination of Gum Paste and Fondant. Simply knead the two together. Fondant only decorations will get hard and brittle. You will need the Gum Paste to keep them soft and easy to work with or cut through.
Once combined, store the majority of your Gum Paste & Fondant mixture in a sealed sandwich bag as you make your individual pieces to keep mixture from drying out while you are creating each decorative piece. Remove only a small amount as needed.
For each rose, tear off a small ball of the mixture.
For the border or decorative piece, tear off a small portion of the Gum Paste & Fondant mixture and roll it into a long rope or tube like piece.
For either flower or border mold, apply a dusting of cornstarch onto your mold. Make sure the cornstarch doesn't clump in the design. You simply want the mold lightly dusted.
Lay the rope or ball on the mold
Grease your fingers lightly with shortening
Press the rope or ball into the mold and create your decoration
Trim away excess mixture
Turn the mold over onto a piece of wax paper
Pop the molded Gum Paste Rose or Trim onto the wax paper.
Dampen your Finger with water and very gently rub it across the back of your molded decoration, then set the decoration where you want it on the cake.
It Really is That Easy to Make Your Own Cake Decorations!
Wilton Gum Paste Mix, 16 OunceCheck Price Pearl Band Mold by Karen DaviesCheck Price Fondarific Buttercream Wedding White Fondant, 10-PoundsCheck Price
Tips for Using a 3-D Cake Mold
Regency Baker's Twine Cone red and whiteCheck Price
The 3-D cake molds have become very popular, but there are a few things you need to know before you start baking your upright cake.
Keep in mind, if you use one of the 3-D pans shown above, you will need more cake batter than what a box cake mix will yield, which is usually only 4 cups. You will need to make two mixes and use only the recommended amount of batter (usually around 6 cups) for your 3-D cake. You may want to have some cupcake pans handy for the leftover batter instead of discarding it completely.
Make sure you heavily grease the cake pan with shortening (shown below). Pam spray is good for some things, but it will not be sufficient to keep a baked molded cake from sticking to the pan and breaking apart. Use shortening and flour!
You will also need Baker's Twine
on hand to tie the mold together while the cake bakes. This is something most people don't realize they need until they are ready to put the cake in the oven.
Crisco, All-Vegetable Shortening, 16 ozCheck Price
Originally posted 2015-09-16 13:42:55.
---