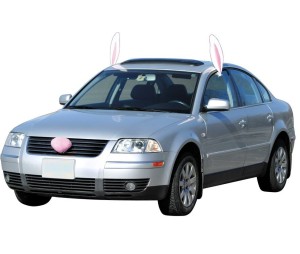 We all enjoy the fun side of celebrating Easter. Outdoor Easter decorations and Easter egg hunts are a few of the most popular ways to share fun times on Easter, however, there are other ways to have fun on Easter too. Have you ever decorated your car for Easter?
Many of us have to be out and about on Easter, but we wish to be part of the celebration fun too. Decorating our cars with Easter bunny ears or simply adding an Easter jelly bean license plate on our car can allow us to join the fun, plus provide entertainment for everyone who sees us driving down the street. Drive your Easter car around town just to see the reactions of everyone who sees you, especially children. They love seeing an Easter bunny mobile.
Mystic Industries Easter Bunny Vehicle CostumeCheck Price Jelly Bean Candy Bling Colorful License Plate Frame Car Truck Auto MetalCheck Price
The Easter bunny car decoration set comes with 2 bunny ears that are easily installed on the windows and one big, pink nose attached to the grill of the car. The decorations are weatherproof which allows you to play even on a rainy day. One note, you can't drive on the highway with these car decorations. They could blow off and become a traffic hazard or other drivers.
You can use the jelly bean license plate on your car year round, but it is especially appropriate for Easter. The jelly bean decoration is attached to a metal frame with a strong adhesive that will withstand weather and car washes.
Either the bunny car "costume" or the jelly bean license plate frame would be an awesome way to decorate your car for Easter.
Originally posted 2015-06-17 15:53:27.
---