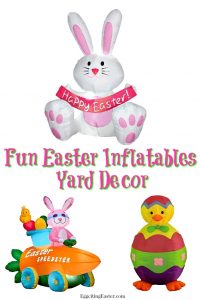 An Outdoor Inflatable Easter Bunny, an Inflatable Easter Egg, or Inflatable Easter Chicks are awesome additions to Easter yard decorations!
What a great way to welcome family and friends to your home for Easter.
Fast and easy to set up, either of these Easter Inflatables are sure to add a touch of fun to our yards and Easter Egg Hunts.
Because the inflatables are several feet high, they are big enough to see from the street.  Families that are simply driving by your home will enjoy your touch of fun to celebrate the holiday.
Decorating for Easter has never been easier!
Inflatable Easter Egg and Chick
 4 Foot Party Inflatable Baby Chick and Egg – Yard Blow Up DecorationCheck Price
I have always enjoyed hosting the family Easter Egg hunt, decorating eggs, hiding the eggs and then getting to watch the egg hunt. I have even been know to join in an egg hunt.
It simply adds to the fun to also be able to decorate the yard with these big eggs & chicks. You certainly would not have to "hunt" for this egg!
Features of this Inflatable Easter Eggs Include:
Lights Up!
4 ft. Tall
Includes Fan, Stakes and Tethers
Easter Inflatable Bunny in His Carrot Car
 Gemmy Airblown Inflatable Easter Bunny in Speedster SceneCheck Price
What a delightful decoration this guy would be to any home or yard for Easter!
He just looks so happy in his stylish carrot convertible car! He will simply make Easter a little more joyous with his cheerful little wave.
Features of this Inflatable Easter Bunny in Car Decoration Include:
Lights Up!
4 1/2 ft. Long
Includes Fan, Stakes, Tethers and a replacement blub
Easter Outdoor Inflatable Yard Decor
Either of these decorations would be awesome and would be a very easy way to decorate your yard for Easter. They are all durable and weather resistant.
Useless you plan to set your yard decorations against your house, you will need an extension cord to plug in your outdoor inflatables. Otherwise, everything needed is already included. They inflate so quickly, decorating will seem as magical as the Easter Bunny himself.
I have no doubt, everyone will love your Easter yard decorations!
 Happy Easter Bunny Airblown Inflatable By Gemmy 3.5′Check Price Easter Bunny Holding Easter Egg Inflatable Easter Rabbit 4′Check Price
Wishing You an Eggciting Easter Filled with Lots of Fun!
Originally posted 2013-11-21 21:10:32.
---