Sometimes, all we really want is just a little cuddle creature to love. Either of these adorable pink bunnies would be the perfect Easter gift. One is all dressed up for Easter in a pretty spring dress, while the other one is au naturel with only ribbons on her ears.
No matter how old we get, we never really grow to old to need a comforting, soft companion. These pink bunnies would be a sweet gift all by themselves, or they would be a pretty finishing touch to any Easter basket.
Crocheted bunnies just feel like home!
Pink Plush Bunny Rabbit with Dress
Pink Plush Rabbit with Dress. Plush Amigurumi Toy RabbitCheck Price
Isn't she precious!
This sweet little pink bunny is just waiting for her new home and the loving embrace of somebody who adores her. Any child would love a sweet and irresistibly charming Easter bunny.
This crocheted Amigurumi rabbit is wearing a multi-colored dress that is removable.
She is 10½" tall, including her ears, which is the perfect size for a child to love and to carry around. After all, once your baby girl sees this pretty bunny, she will never want to leave home without her.
The photo shows the rabbit sitting outside which made me thing what a cute idea it would be to hide her. Then "help" your child find her when she is hunting for eggs. Imagine the joy of finding the Easter bunny while seeking colored Easter eggs.
Rabbit Pillow Doll – Floppy Eared Bunny
Rabbit Pillow Doll – Floppy Eared BunnyCheck Price
Another amazingly adorable crocheted animal is this floppy-eared Easter bunny. The lavender eyes are embroidered on the bunnies face so you won't need to worry about small pieces.
The floppy eared bunny looks very sweet indeed with her matching lavender ribbons. However, the ribbons can be removed if desired.
The fluffy white tail is attached with thread. If you are giving this gift to a toddler who is teething, you might want to snip those threads and temporarily remove the tail. Then simply tack they little tail back into place when she is old enough to not be tempted to chew the little while fluffy ball.
This sweet bunny is 14″ tall and 7″ wide at the widest part. Just the right size!
Share the Love!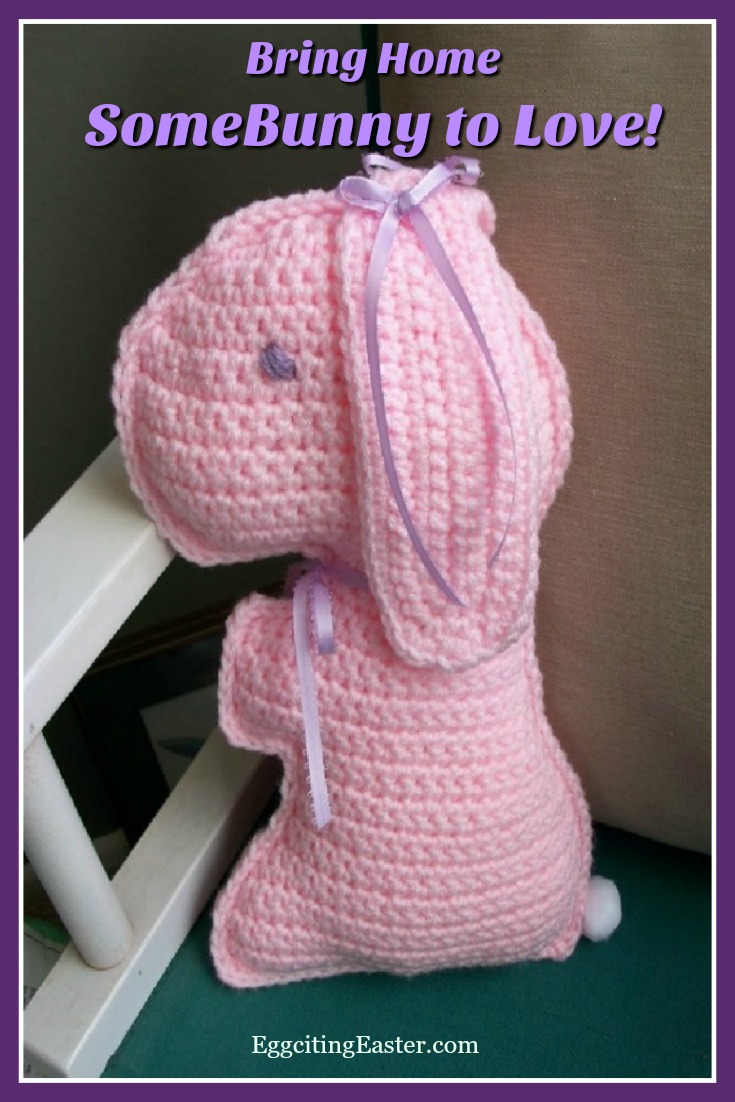 Originally posted 2016-11-18 16:03:03.
---