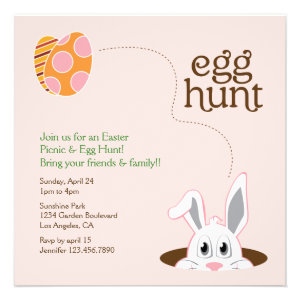 Easter Egg Hunt Picnic Invitation by mistyqe
Easter is a wonderful occasion for hosting a celebration. If you decide to host one, you will need Easter party invitations. There are thousands out there to choose from.
We are going to help narrow it down for you. We have chosen a selection of children's and whole family invitations to feature. These invitations will take the work and worry out of letting everyone know you are hosting an Easter party. The who, what, when, where will be all taken care of.
Then, you can get on with planning the details of the party!
Who's Coming to your Easter Party?
Who the guests will be at your Easter party is the most important element. From there, you can start planning appropriate activities, food and drink.
Children's Easter Party Invitations
Most Easter parties for kids include games, a visit from the Easter Bunny and an Easter Egg Hunt. Invitations for children's parties are usually cute and whimsical.
For kids, the food will be an afterthought. If you make sure they have take home treat bags with some homemade goodies, most will be content to play the whole time. Children are notorious for not wanting to stop to eat.
On the other hand, if you really want to offer the little darlings something to eat, consider one of these party food ideas:
Cake & Ice Cream, just like a birthday party
A few appetizers your kids enjoy (chips, dips, pigs in a blanket, etc…)
A meal of hot dogs, hamburgers or sandwiches
If you have decided to host a children's party, make sure you address the envelope to the child. Most kids would love to get mail and an invitation is bonus. Here are a few Easter party invitations most kids would love to receive:
Families Easter Party Invitations
Easter is a time when families celebrate together. If you want to have a really fun party, invite parents and children alike to an Easter celebration.
Inviting whole families ensures a great time at an Easter party. Parents can interact with other parents while the kids are playing games or hunting Easter eggs. Once the activities are over, you can host a meal, potluck or heavy appetizers for everyone.
Easter egg hunts are lots of fun but can get costly. One way I have found to cut down on the expense is to ask each family to bring a dozen filled plastic Easter Eggs to the event. Throw them all together in one big bag. Have some adults can hide the eggs all over the yard while others are conducting games with the children — keeping them busy. This leaves everyone to enjoy the actual hunt by participating or watching the children. Don't forget your camera!
Here are a few Easter party invitations that would work nicely for a family oriented party:
Whatever type of party you decide to host, make sure you get some awesome Easter party invitations like one of the above. They set the tone for the event and will get everyone excited. Sometimes the anticipation is just as much fun as the party!
Originally posted 2014-01-03 02:26:00.
---