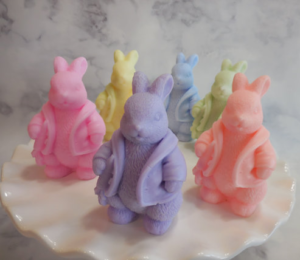 Easter soap is such an easy way to add a special touch of Easter decor in any room with a sink.  These little soaps would be adorable decoration in bathrooms, the kitchen and even a great way to add a little cheer for the laundry room sink.  Not only are they precious to see, but they are moisturizing soaps.  Once Easter is past, there is no reason why you shouldn't use the soap for washing your hands.  The soaps featured here are offered in a variety of colors and scents, so you choose your favorite scent, as well as a color that compliments your room decor.
One note of caution, please make sure your children know they are not marshmallows or candy.
Easter Bunny Soap
These adorable Easter Bunny soaps are reminiscent of Peter Rabbit since the little bunnies are wearing a jacket.  He is also holding his personal favorite treat, a great big carrot!
Children and adults alike are sure to love these little bunnies.  You can choose the bunnies in a variety of colors, or select one very special bunny for each bathroom.  They are sure to delight everyone in your home.
This shop owner individually wraps every soap to help ensure the soap will arrive unharmed.  It also allows us to give this adorable bunnies as gifts without any extra effort required on our part.
Appropriate gifts for any age from youngest and up.  Even grandmothers appreciate a special treat for Easter.
Easter Chick Soap
Baby chicks are another favored animal on Easter.  They symbolize both spring and new birth.
These precious chicks are also available in a variety of colors and are sold in pairs.   For each order, you will receive 2 baby chicks that are completely ready to perch by your sink and bring a smile to every face.
Aren't these baby chicks adorable!
All of the decorative soaps are made to order, but the ingredients do vary from shop to shop, so be sure to check the individual soap ingredients if you have any allergy or scent concerns.
Decorative Easter Soaps
This beautiful soap features both the Easter Bunny and the baby chicks!  It is available in a variety of scents and you choose whether you want it made from Goats Milk or Shea Butter.   I love all of the extra touches on this soap from the spring tulips and the Easter basket, to the tiny butterflies fluttering all around.
More Easter Soaps
There are dozens of other decorative Easter soaps available including pretty Easter eggs and lambs.  To see what other sweet smelling and beautiful soaps await you, simply click here.
Save
Originally posted 2016-06-16 14:37:11.
---