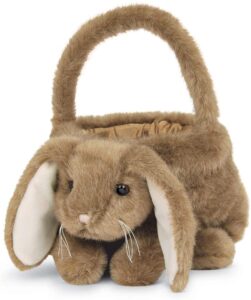 Everybody, at every age, loves an Easter basket filled with candy and treats. Children love exploring the depths of an Easter basket to find the hidden treasures at the bottom of the basket.
With these adorable Plush Easter Baskets, even babies and toddlers can have their own Easter basket.
These plush Easter baskets can either be filled with small toys and treats or they are safe for a toddler to carry and load with eggs during an Easter egg hunt.
When Easter is over and all of the treats and eggs are gone, the child will have a beautiful plush bunny to carry and use as an everyday tote for the most precious treasures. The pretty little plush bunny featured is soft and pretty. It is sure to be a cherished pet for many years to come.
Baby's First Easter Basket
 My First Easter Basket & Photo Album Gift BundleCheck Price
When my own son was a toddler, he really wanted to participate in the Easter egg hunt.
Fearing that he would get hurt if he fell and landed on his Easter basket, we purchased a soft, plush basket very much like the one pictured here. It came with a little duck inside of the basket. Of course, he loved having his duckie accompany him on his first Easter egg hunt.
This First Easter Basket comes with a bunny that rattles, a chick that chirps and an egg that crinkles. It is made by Baby Gund, which is a trusted name in baby toys and products. This basket would be perfect for a baby's first Easter. The bunny, chick and egg could easily be removed for that first Easter egg hunt or your child just might choose one to "hunt" with them.
More Plush Easter Baskets
Depending on your child's preferences, there are several other plush Easter baskets
available. Simply choose your favorite and get ready for a very safe and eggciting Easter.
 Tri-Coastal Design – Ladybug Plush Basket – One-Size, RedCheck Price Russ Berrie Baby Chick Basket Buddy Easter BasketCheck Price Hello Kitty Jumbo Plush Easter BasketCheck Price
Originally posted 2014-01-25 22:30:55.
---