Easter eggs are not limited to the Easter egg hunt!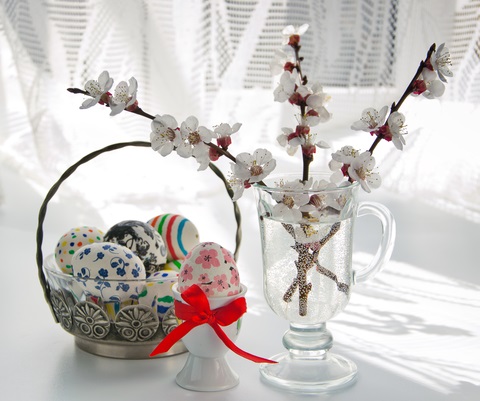 There are multiple ways to decorate with Easter eggs because they come in such a variety of materials, styles, and colors.
Here are Suggestions for Decorating with Easter Eggs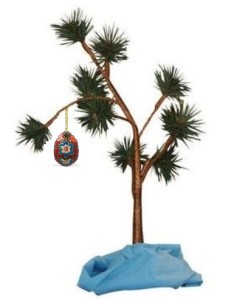 Consider hanging Easter eggs from a tree. Decorating trees is no longer exclusive to Christmas. Easter trees are gaining more popularity each year. Hand-painted Easter eggs, wooden Easter eggs, or even plastic Easter eggs make beautiful hanging ornaments for an Easter tree. The tree, itself, does not have to be expensive or fancy. I use a Charlie Brown Christmas tree which I leave out after Christmas. I simply set aside the red ornament that is included with that tree, and hang the Easter eggs from the tree branches. Because that tree is not a full or thick tree, it is perfect for hanging display type ornaments.
Bowl Full of Easter Eggs
Not only are the Easter egg ornaments lovely on a tree, but an assortment of colorful Easter eggs is quite beautiful simply laid in a decorative bowl or nestled in a tall vase. Any of these arrangements can be used as a centerpiece for a table or as a decorative accent piece for any table top in any room in your home.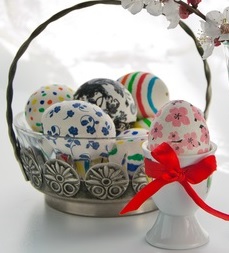 An Easter Egg Wreath
You can even make a wreath for your front door by adding these pretty eggs amid flowers. You could purchase a specialty wreath like the one featured below, or you could use an existing wreath. Simply nestle the eggs among the flowers. If you actually open and close the door often, you may want to consider using a small dab of hot glue to hold the eggs in place. Since I am not suggesting a permanent wreath design change, I do recommend a very small amount of low temp hot glue. That will make removing the eggs after Easter very easy.
The Easter egg ornaments certainly make for a fast and easy Easter decoration!
Spring Easter Egg WreathCheck Price
Selecting Your Decorative Easter Eggs
The Plastic Easter Eggs
Plastic Easter eggs have been popular hiding eggs for Easter egg hunts for as long as I can remember. However, they also make very colorful decorations. Because they are so light weight, they can certainly be used in a variety of decorating options.
With or without the candy inside, these eggs make a lovely presentation, even if they are simply piled in a wicker basket.
The set of shiny egs would certainly show up well in a wreath on the front door since they would easily catch and reflect light, sunlight or porch lights. You might want to glue the eggs shut though if you plan to use them in a semi-permanent arrangement like a front door wreath.
3″ Set of 6 Shiny Golden, Silver and Purple Fillable Plastic Easter EggsCheck Price Dazzling Toys Easter Eggs – Plastic Bright Egg Assortment – 72 Pieces – 2 Inch EggsCheck Price 12 Pastel Fillable Plastic Easter EggsCheck Price
Hand-painted Easter Eggs
Goose egg Pysanka, turquoise hand-painted Easter egg, real goose egg shellCheck Price
The hand painted Easter eggs are more likely to be displayed individually. You aren't likely to want to risk damage by bunching these eggs together or piling them in a basket or bowl.
Placed on a mantel or bookshelf, this gorgeous hand painted Easter egg will add beauty, color and a fabulous holiday decoration in your home.
This particular egg is a real goose egg that has been hand-painted and processed to create a stunning work of art that you will proudly display and showcase for Easter.
Wooden Easter Eggs
The wooden Easter eggs are a fabulous combination of both painted beauty and durability. They can be displayed separately, or piled together to make a stunning array of beauty and design.
Some of the wooden Easter eggs come with hangers so you can hang them on a tree or display hanger. Other selections do not feature a hanger, so you could use them in floral arrangements, wreaths, decorative bowls, or set individually on display pedestals.
The hard part will not be in finding ways to decorate with these lovely eggs because you really can do just about anything with them. No, the difficulty will be making your selection to begin with and choosing which ones you personally prefer.
2.5″ Set of 6 Hand Painted Wooden Ukrainian Easter EggsCheck Price 3″ Set of 6 Garden Flowers Wooden Pysanky Ukrainian Easter EggsCheck Price 3″ Set of 6 Flowers and Birds Wooden Pysanky Ukrainian Easter EggsCheck Price 3″ Set of 6 Flowers and Birds Wooden Pysanky Ukrainian Easter Egg Christmas OrnamentsCheck Price 3″ Wooden Set of 6 Garden Flowers Ukrainian Easter Eggs Christmas Ornaments PysankyCheck Price
Regardless of which style or material you prefer, Easter Eggs really do make beautiful decorations!

Glass Blown Easter Eggs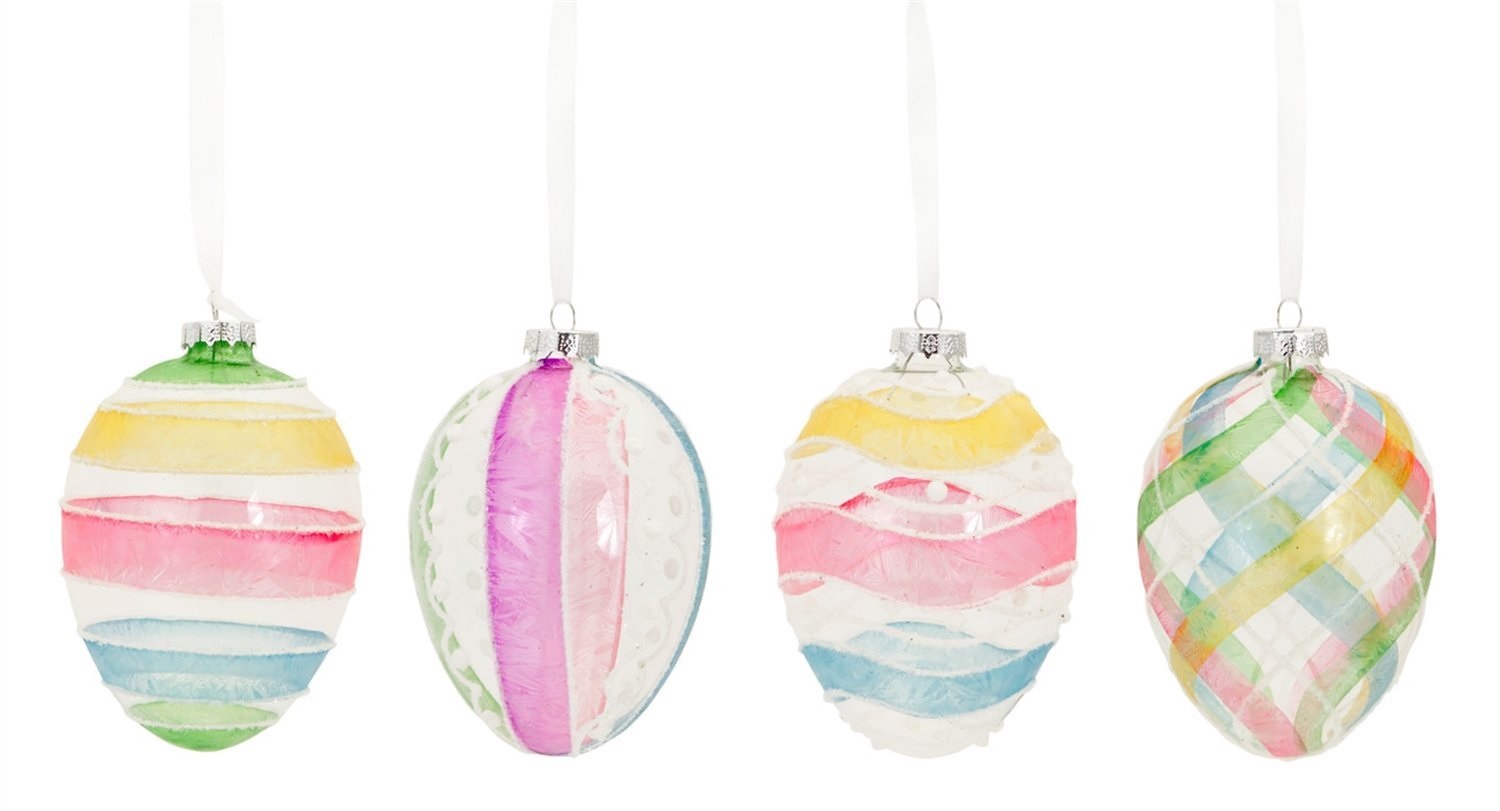 Rainbow Easter Egg Ornaments Set of Four Blown GlassCheck Price
Share this Article with Friends!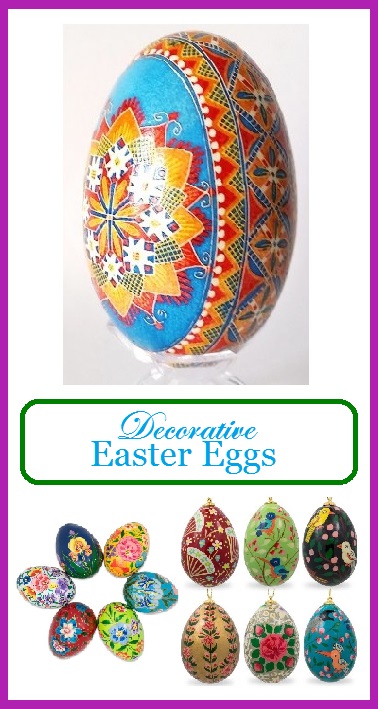 Originally posted 2016-02-17 18:59:47.
---