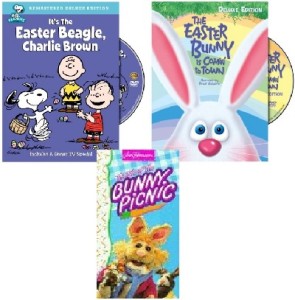 These Easter videos for children are really very cute and quite entertaining. They make the perfect addition to an Easter basket too.
In the Peanuts video, you will find the gang getting ready for Easter in true Peanuts style. You can easily guess by the name that instead of an Easter bunny, the children are visited by Snoopy the Easter beagle. His energy and excitement to be handing out Easter eggs is really quite contagious. It is impossible to not smile at Snoopy.
Oh! But let's back up a moment. Did I say style? Why yes, style is also part of the story. Sally wants a new pair of shoes for Easter. Also in what seems true Peanut style, Charlie Brown is lamenting the commercialism of Easter. It really is an adorable show that this generation of children will love too.
Of course, we wouldn't want to leave out the Easter bunny, so you could include a video with the Easter Bunny coming to town. This is a very cute story featuring Fred Astaire as the engineer narrator. Instead of a sleigh like Santa has, the Easter Bunny rides in on a train which truly delights children who love choo choo's. They have created an entire story about how visits from the Easter Bunny ever started. They even explain why Easter eggs are boiled.
This video includes several chatty tunes that are sure to delight your child and you will, no doubt, hear your children singing them for weeks to come.
It's the Easter Beagle, Charlie Brown (remastered deluxe edition)Check Price Easter Bunny Is Coming To Town: Deluxe EditionCheck Price
Be Sure to Include The Tale of the Bunny Picnic in Your Videos Gift
"The Tale of the Bunny Picnic" is not exactly an Easter story, but it is all about a bunny village. It is perfect any time of the year, but especially fun for Easter.
Originally posted 2016-01-21 16:37:37.
---