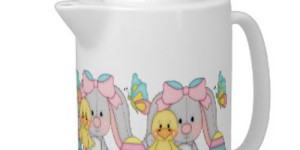 Getting ready for Easter in my home always means I bring out my Easter teapots. Some are whimsical, some are vintage, but all are charming. Yes, I use them for Easter decorations, like a centerpiece, but I also use them for Easter tea time. This year it's time to get a new one. And did I have fun picking from the all the choices.
Vintage Easter Teapots
Vintage and this particular holiday do go well together. The tradition of celebrating Easter has ancient roots. That makes vintage a great style for Easter teapots. If you like to use your teapot for serving tea, then you might also like a vintage look. Easter, vintage and tea time, a great combination.
Easter Bunny Teapots
There is no way to ignore the Easter bunny. Certainly not at this holiday. The kids love him and we adults think he's charming as well. Since I have darling granddaughters, an Easter Bunny teapot is definitely in order. After all, the Easter Bunny hides all those eggs in the perfect places for them to find.