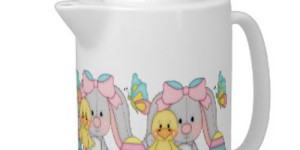 Getting ready for Easter in my home always means I bring out my Easter teapots. Some are whimsical, some are vintage, but all are charming. Yes, I use them for Easter decorations, like a centerpiece, but I also use them for Easter tea time. This year it's time to get a new one. And did I have fun picking from the all the choices.
Vintage Easter Teapots
Vintage and this particular holiday do go well together. The tradition of celebrating Easter has ancient roots. That makes vintage a great style for Easter teapots. If you like to use your teapot for serving tea, then you might also like a vintage look. Easter, vintage and tea time, a great combination.
Easter Bunny Teapots
There is no way to ignore the Easter bunny. Certainly not at this holiday. The kids love him and we adults think he's charming as well. Since I have darling granddaughters, an Easter Bunny teapot is definitely in order. After all, the Easter Bunny hides all those eggs in the perfect places for them to find.
Chocolate Easter Teapots
Well, no. There isn't such a thing as chocolate Easter teapots that I know of. But I would dearly love one. It wouldn't last long with me. I'm a chocoholic. Still it's a wonderful dream.
Decorating with Teapots
Even if I can't get a chocolate Easter teapot, I can still decorate with Easter teapots. I use one as part of the centerpiece on my dining table. I like to pick a colorful one. That way I have plenty of options of adding the extras that will spark up my centerpiece. Sometimes it functions as a vase holding Spring flowers. But other times, I weave a ribbon of an accent color around the teapot, then drape the ends on the table.
I use a solid color placemat under the teapot. The color is one that I can pick up from the design of the teapot. This adds a nice accent to my centerpiece.
Don't feel limited to the dining table either. Try Easter teapots on a side table in the living room. Set a little stuffed bunny next to it and you have a delightful Easter focal point. This was one of those family holiday traditions that came from my mother-in-law. Easy, simple and perfect.
---