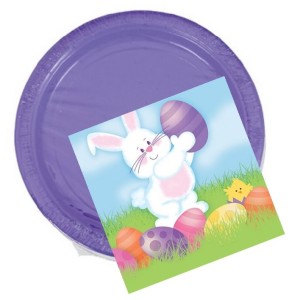 I am a firm believer in spending as much time with your family on Easter, or any holiday, as possible. Easter paper plates and napkins allow me to eliminate dish washing and some of the holiday clean up work. Eliminating the work allows me to enjoy the Easter party or get together a whole lot more without getting too worn out.
Like so many people today, I am concerned about our environment, landfills, waste and refuse, but using paper plates and napkins on a holiday is the one extravagance I allow myself. When I was a child, I watched my mother and grandmother work tirelessly to make every holiday an awesome event. Unfortunately, they spent way too much time in the kitchen, instead of with the rest of the family having fun.
I only have one life to live, which is true for all of my loved ones too. I know I won't regret using paper plates and paper napkins, but I might someday regret not spending more time with someone I love when I have the opportunity. So, my Easter gift to myself is to Make the Holidays Easier and enjoy the time with my family. Plus, I do love those little bunny plates, Easter eggs and decorative napkins!
Creative Converting Easter Oval Dinner Platters with Eggcellent Design, 8 Per PackageCheck Price
Easter Paper Plates
Selecting an Easter dinner size paper plate is actually the hardest part. They are all so cute!
Children always love the Easter bunny design and the Easter eggs, but the flowers are gorgeous and hard to resist. Either would be an awesome choice and would be beautiful when paired with solid colored napkins.
If your Easter dinner party includes both children and adults, you could easily have a combination of plates and let each guest select their favorite. Or, if you have 2 separate tables, use the cute design on one table and the beautiful flowers at a different table.
If you prefer that all of the plates match, simply choose your favorite. There is always next year for a different design selection.
Creative Converting Treasured Tulips Round Dinner Plates, 8 Per PackageCheck Price Easter Elegance 10.5in Dinner Plates Party Accessory 8 countCheck Price Creative Converting 8 Count Square Paper Dinner Plates, Bunny's GiftCheck Price
Easter Dessert Plates
If you really want the stability of everyday china for the dinner, you can still cut down on your work load by selecting Easter dessert paper plates. Because the dessert plates are smaller in diameter, they are simply not as flexible as the larger paper plates and are much less likely to bend or leak. Plus, dessert usually weighs less than a plate full of food.
These Easter dessert plates would be adorable and complimentary of solid colored dinnerware. I would also pair these adorable disposable dessert plates with solid colored napkins that match one of the colors in the plate or with a simple white napkin.
Easter Tweets 7Check Price Dazzle Eggs Easter Dessert Plates, 8ctCheck Price
Ideal Home Range 20 Count Boston International 3-Ply Paper Cocktail Napkins, EddieCheck Price
Easter Napkins
If you prefer to use your china for dinner, you may simply desire to add a bit of holiday decor to your dinner table with the addition of an Easter decorative napkin.
This bunny napkin would be a lovely napkin to use as an accent napkin at each place setting on the dinner table. It would not be large enough to be considered a true dinner napkin, but it would certainly be a very pretty way to add that hint of Easter to the table.
These bunny rabbit napkins are described as cocktail napkins because they are slightly smaller than a standard dessert napkin. They are actually 5″ instead of 6″, but they are just so pretty!
Creative Converting 18 Count Lunch Napkins, Bunny's GiftCheck Price
We are not limited to using Easter napkins just at the dinner table or with dessert. Why not include an Easter decorative napkin in your child's lunchbox for several days before the actual holiday?
It is a great little extra for special occasions that is sure to bring a smile to they little face when they discover this adorable Easter bunny tucked inside with their lunch.
This cute napkin design certainly has it all! The Easter bunny, Easter eggs and an adorable little chick all featured together to create a precious Easter picture.
They are so cute, you might well find that your child prefers to save the napkin instead of using it for it's intended purpose.
Mix & Match
You can always select plain Easter color paper plates and pair them with decorative napkins, or do just the reverse. Use a decorative paper plate with plain solid colored napkins. I usually choose the artwork I like the best, purchase the item that artwork is featured on, and then work around it. That way the artwork doesn't become too overwhelming because the paper plates and napkins all bear the same image.
This also allows you to include matching disposable cups.
Amscan Big Party Pack 50 Count Plastic Cups, 16-Ounce, New PurpleCheck Price Amscan Amscan New Purple Big Party Pack 9Check Price
By using disposable paper products, you can add beautiful artwork to your Easter table and have less work to do as the hostess. This really is a win-win solution for everyone! I know I would have preferred to use disposable paper products and spend more time with my grandmother when I was a child. I assure you, she was a lot more important to me than the china or the linen napkins.
Originally posted 2015-07-15 14:58:34.
---