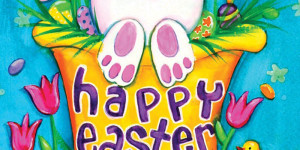 Easter is a great time for kids to be messy. With egg decorating, coloring pages and plenty of fun crafts, every kid deserves their own Easter Bunny apron. Perfect for those budding artists to let their creativity to have some fun. We could all use an apron for our own creativity, too.
Easter Bunny Aprons
One of the most fun symbols of Easter is the bunny. Whether the rabbit is a sweet and charming one, or a cartoon funny one, he's still a great design on a child's apron.
Child-sized Aprons
These aprons are sized just for kids. Measuring 20 inches long, they will cover the front of nearly any aged child. Two big pockets right in the front make them ideal for those kids who love to carry things around with them. Those pockets also make a great place to stick extra paint brushes, crayons and paper.
Personalize an Easter bunny apron for your child. I've always enjoyed adding my grandchildren's names to fun things I get for them. And I definitely think Easter bunny aprons are a fun thing.
Zazzle makes the process of adding names so easy. Type in the child's name, then pick a font, color and placement. Change the size, reposition, change the font, try out different colors. All of this is easy to do. I can assure that what you see online is what you get. No surprises there.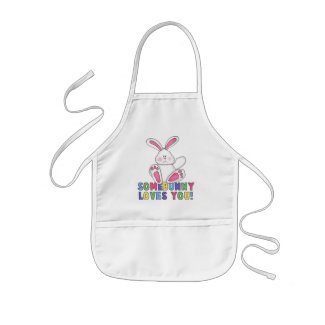 SomeBunny Loves You Apron
by
Just2Cute
Find other Easter Bunny Aprons at
zazzle.com
Easter Bunny Aprons for Crafting, too.
If you have a little one, like my 5 year-old granddaughter, who loves to do crafting things, you will both appreciate an Easter bunny apron. With my little sweetheart, glue does ultimately land on the paper. Paint does eventually get the design she wants. And glitter is a great decoration for her hair, shirt, hands and face.
In other words, an apron is a must for her. She is so proud of all the aprons Gramma got for her. And, yes, she does actually wear them. Much to her mother's delight when it comes to laundry time.
So get your own little one, whether your son or daughter, or a grandchild, their very own Easter bunny apron. You know it will be appreciated by more than the child.
Originally posted 2014-03-19 18:01:41.
---