All parents love to see their babies and toddlers in pretty apparel for Easter.  However, once we are home from the Easter service and pictures have been made, the children prefer more comfortable clothes.  These smocked rompers, one piece bubble outfits, and 2 piece sets are perfect for Easter afternoon, play and nap time.  The clothes still feature adorable Easter images, but they are a lot more suitable for play, crawling or moving around.
Once our children are older, they aren't likely to wear smocked tops or dresses, so we need to enjoy seeing them in these beautiful outfits while they are little.  Smocked rompers are even appropriate wear for baby boys.
Smocked Baby Rompers Featuring Bunnies for Easter
 Smocked Cross RomperCheck PriceThe one piece rompers were one of my favorite baby apparel items when my children were infants.  They are so very convenient for diaper changes, yet the baby is fully clothed.
Each romper featured here today has a smocked yoke with a pretty design stitched into it.  Some have the gathered arms and/or legs to create the lovely ruffled effect traditionally worn by girls.  While others have the cuffed sleeves and legs traditionally worn by boys.  However, I will confess.  My baby daughter didn't like the elastic on her arms, therefore I purchased the cuffed arms for her.  With the cute motifs and her long hair she always looked beautiful regardless of the finishing touches on the apparel.  Actually, she is still beautiful today in whatever she is wearing.
Baby Bubble – Smocked Easter OutfitCheck Price image 0 image 1 image 2 image 3 Lavender Dixie Dot Easter Bunny Smocked RomperCheck Price Easter Baby Clothes | RomperCheck Price
Smocked 2 Piece Baby Outfits for Easter
There were definitely times when I wanted my baby daughter to be a little more dressed up. That was when I preferred the 2 piece outfits that looked like a dress, yet have bloomers underneath that covered her diaper.  Ducks or bunnies are the perfect motif for Easter!
Easter Bloomer Set, Baby Bloomer Set, Ducks Bloomer SetCheck Price Bunny Bishop and Bloomers sz 6-18 mths – Special Order – Shown in the IntroductionCheck Price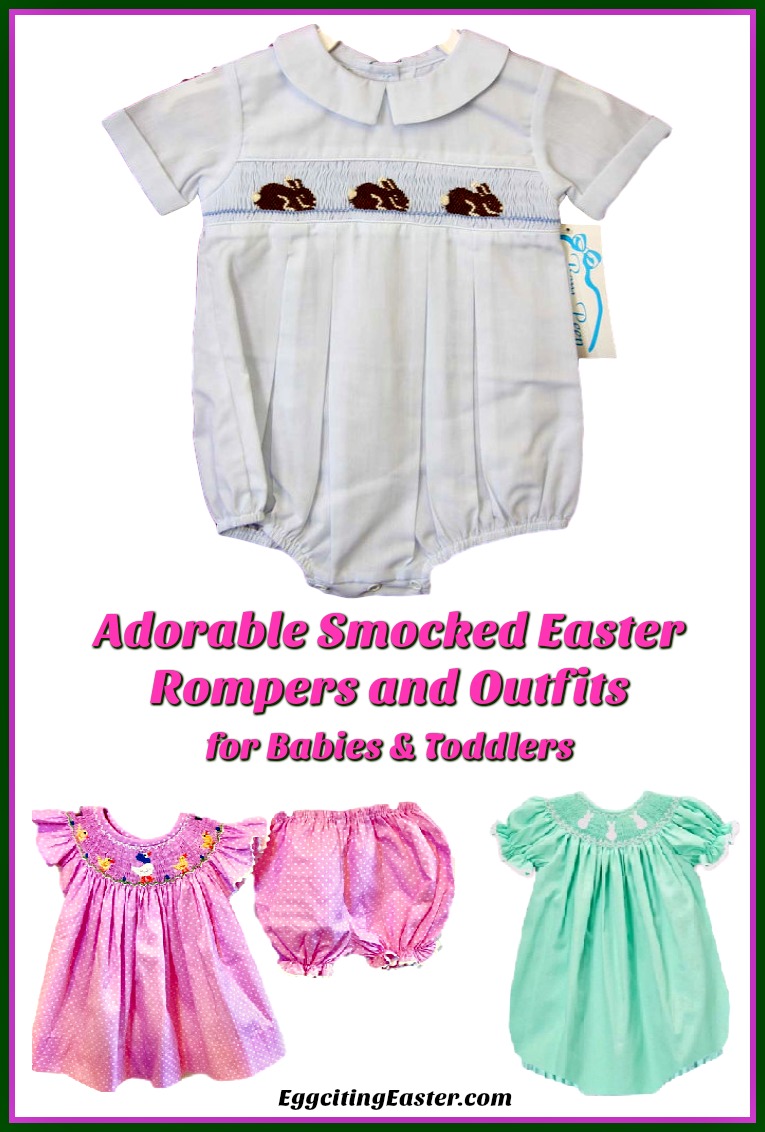 Originally posted 2018-01-18 17:32:22.
---